Propel Your Business to Success with .AU
Written on 20 June, 2022 by MelbourneIT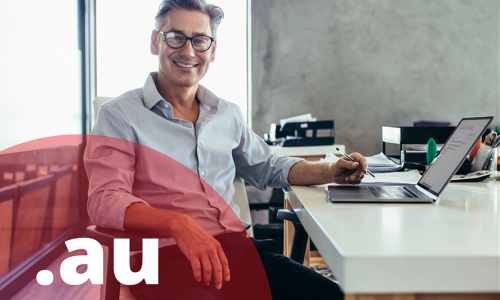 If you run a website for your online business, you would have heard about the new top-level domain name that was released earlier this year.
Instead of having a .com.au or a .net.au, you can instead opt for a domain name with just the .au.
This means:
yourbusiness.com.au
Will look like this:
yourbusiness.au
Some benefits to choosing a .au domain name over the other top-level domains currently available to Australian businesses are more obvious than others. Today, we will be exploring them all so you can make the right decision for your business domain and brand.
A .AU Will Beef Up Your Cybersecurity
More people are using digital technology than ever before. Due to the recent pandemic, the relevance of digital technology as an economic facilitator has grown and is here to stay. This means people are creating more data, storing and sharing them across networks with one another. However, this also means there are more opportunities and targets for cybercriminals to conduct illicit activities.
Unfortunately, staying on top of software updates, passwords and network protection is not enough when you have an online presence. One such way cyber criminals can facilitate their malicious activities is by domain squatting. Not all business owners are aware, but domain squatting is actually very common. Cyber criminals only need to purchase a domain to demand money for it, costing legitimate businesses thousands of dollars.
Cyber criminals are always on the lookout for their next victim. This means you need to be diligent about cyber protection from the very start. This is why the Australian Cyber Security Centre (ACSC) is recommending all business owners to increase their cyber security measures by securing their .au equivalents as soon as possible.
A .AU Will Safeguard Your Online Brand
If your .au equivalent domain is available to the public, you are also opening up your loyal customers to cyber-attacks from online criminals.
By purchasing your .au domain and setting up an email account or website, cyber criminals can target and send emails to your customers, pretending to be your business. It is becoming increasingly common for criminals to phish for information using this impersonation method, leading to millions of dollars and sensitive information lost to online fraud.
However, that is not all. The damage to your brand is much greater than the initial loss of revenue. Loyal customers affected may lose their trust in your brand. Rebuilding your business reputation can take months, even years, after resolving the initial cyberattack on your customers.
In addition, you will need to wait until your equivalent .au domain expires before you can purchase it. If the cyber criminals you are dealing with are thorough and sophisticated, there is always the chance you may not be able to obtain it. You may then have to consider changing your brand name and build a new one from scratch.
At Melbourne IT, we want to protect our customers who know and trust our brand. This means making sure we own melbourneit.au so our customer base and potential customers are always directed to our official website and email communication channels.
Registering for your brand's .au equivalent domain immediately will allow you to be in control of the brand you have painstakingly created and built over the years.
A .AU Can Boost Your Conversions
Getting your hands on the new .au domain can also benefit your Australian business.
The .au is an official top-level domain, released only to people with an Australian presence. This means internet users will immediately be able to associate your business website with Australia. By adopting the right steps to grow your online presence with a .au, your business can reap benefits that extend far beyond brand exposure and click-through rates.
Another clear benefit to adopting your .au equivalent domain name is having a shorter domain name than other existing top-level domains.
Case Study: Webcentral.au
At Webcentral, the .au equivalent domain name – Webcentral.au – was initially acquired to prevent crooks from squatting on the domain. As Australia's premier digital services provider, they knew this is necessary to strengthen their cybersecurity. This ensures no one can build a separate spoof website to scam their customers.
Shortly after, Webcentral started noticing some traffic coming through from the new .au domain. This potential, along with a strong SEO strategy for webcentral.au, prompted the company to switch their website directly to .au.
In just a few months, there was improvement in more than one vital online statistic.
30% Jump in Google's Page 1 Rankings
Within 3 months, webcentral.au has not only increased in the total number of key terms coming up on Google's page 1 but have increased the number from 115 to 153. This is an increase of more than 30%, exceeding all expectations of the team.
Almost 15% Jump in New Website Users
Within the same period, they saw an increase in website users by 14.15%. This statistic shows that potential customers are not shying away from the brand even after adopting a new top-level domain.
Close to 41% Jump in Ecommerce Conversion Rate
As a business operating an ecommerce website, conversation rate is another key metric for Webcentral. After switching to a .au domain, the website experiences an amazing 40.28% increase in ecommerce conversion rate.
32% Jump in Transactions
Due to the positive results from their ecommerce conversion rate after adopting the .au for their website, Webcentral successfully increased their online transactions by 31.9% for the same period. Choosing a .au for their online business and taking the necessary steps to optimise their pages for Google rankings has paid off.
Make Your .au Work for You
In addition to the apparent benefits of the new .au domain, which includes:
A shorter domain that suits mobile users better
A clear declaration of an Australian presence
A memorable branding that rolls off the tongue
An ownership of your ideal domain name,
You will also be:
Taking necessary steps to prevent cyber criminals from leveraging on your brand
Protecting your customer base from online scammers
Boosting your SEO and online strategy
Whether you already have an existing domain for your online website or if you are just setting up a new business, there are clear benefits to include the new .au domain in your short and long-term plans.
Plus, registering for your .au is pretty simple!
Should you have additional questions, feel free to check out some frequently asked questions about the .au.
Alternatively, you can also get in touch with our knowledgeable consultants directly at 1300 793 248.
Looking for some help with domains, hosting, web design or digital marketing?