What is Google My Business?
Written on 07 June, 2018 by MelbourneIT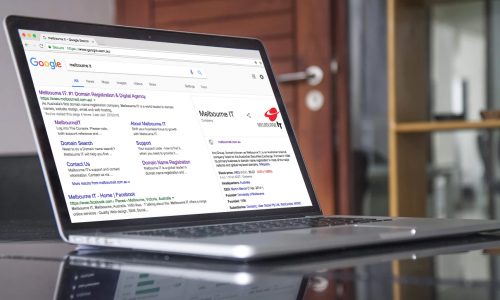 Google has rapidly become the solution of choice for consumers searching for products and services. The Yellow Pages are now a thing of the past, with the internet taking over as the dominant form of business discovery.
Google My Business has, in a sense, replaced paper business directories, acting as an index for local, national and international businesses. All you have to do is set up a free business profile and you become immediately discoverable to anyone searching on Google, even if your business doesn't have a website. Seems too good to be true, doesn't it?
What does a Google My Business profile look like?
Take a look at the image above. This is a Google search for the term "melbourne it." It has immediately brought up the search results, including the Google My Business listing. Take a look to the right of the screen. There is a box with the business name, logo and details. That is how a Google My Business listing appears when returned from relevant keywords.
Manage your online presence on Google
In this digital age, online is primarily where your customers are, and Google My Business allows you to appear even if you can't afford a website.
Don't pay a cent
Google My Business costs you absolutely nothing but the time it takes to set it up. This free tool is available to anyone with the know how to fill in a few simple online forms. It provides customers with detailed and useful information about your business, like opening hours, address and directions to get there, phone number and your business website. It also allows you to accumulate reviews and ratings, without a single fee or catch.
Draw in local customers
Have you ever entered the search query "[something] near me"? It's extremely common these days as. Using location services, Google provides geographical information about the businesses located in the searcher's vicinity. This not only makes it easier for customers to find you online, it also makes it easy for them to locate your physical store. With a Google My Business profile, you expand your chances of being found by consumers in the local area, purely due to convenience.
Appear on Google Maps
A Google My Business profile doesn't just make your business visible on the Google search engine, it also drops a pin for you on the Google Maps app, extending your reach to those who only use the maps function to look for nearby establishments.
Interact with you customers
Like many social networks, Google My Business also allows you to open up a dialogue with your customers via the review function. Show potential customers you're real and you care by replying to comments and reviews made on your Google My Business listing and keep consumers updated with your business by keeping your business details current so their expectations are always met.
A Google My Business profile puts you in full control
With Google My Business you take the reins and dictate exactly how your business will be viewed online. Enter only the details you want your customers to see and update at any time. You can also add as many images as you like to your profile to help enliven your listing and attract more customers.
Optimise your Google My Business profile
Just like any website, you can optimise your Google My Business profile to appear for different search terms. By using related keywords (just like SEO), you can manipulate the traffic that comes across your listing. If you're interested in getting more traffic to your free Google My Business profile, chat to an Online Solutions Advisor today about the changes you can make, or take a look at our Search Engine Optimisation services online.
Looking for some help with domains, hosting, web design or digital marketing?