Melbourne IT Delivers Australian's Preferred Web Hosting Services
Written on 28 October, 2021 by MelbourneIT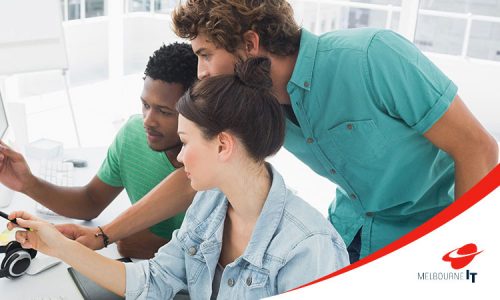 When looking to host your website, Melbourne IT can meet the demands of you and your website audience.
Technology has come a long way compared to just a decade ago and this means that user expectations have changed the demands of what it means to have one of the best web hosting service. From faster load speeds, to security and reliability, we will cover the key factors that make us your top choice for web hosting provider in Australia.
Fast Web Hosting Service
At Melbourne IT, the data centre facilities we employ for web hosting is not only located right here across Australia, but are also own by us. This means you have a choice of which data centre location you want for your web hosting service, allowing you to achieve the fastest site loading speed for your audience.
Your Australian customers are more likely to leave your website if it takes longer than 3 seconds to load. Now that fast internet speeds have greatly increased the expectations of a regular internet user, it is important for your website to at least be able to meet expectations so that you do not lose vital web traffic.
Melbourne IT utilises data centres closest to you and your website visitors to allow your website to load at best performance every day, every time.
Cutting-Edge Security Protocol
Melbourne IT takes security seriously, employing strong web application firewall, vigilant malware scanning, removal and prevention measures. We believe in being proactive with our security protocols, ensuring all traffic coming onto websites hosted by us are protected from majority of phishing attacks so as to reduce chances of fraud. At a network level, we also provide full DDoS protection and strict security at our Australian data centre locations.
Security is no doubt an important factor when choosing one of the best web hosting providers in Australia. With Melbourne IT, you can have peace of mind knowing your web hosting partner is actively protecting your business website from sophisticated security breaches and malicious phishing scams.
Uptime Guarantees in Website Hosting
Your website is crucial for customers seeking such convenience. Therefore, it is important to ensure your website stays open for whenever they visit your website.
Melbourne IT is capable of providing fast, reliable web hosting services with 100% uptime guarantee for our customers. We use top of the range hardware and all-flash storage by DELL, achieving a high level of performance for our web hosting services.
Connect with potential customers even outside of regular business hours with us! Let them search for products, read more about your services and make purchases at any location and time that best suits them with our web hosting service guarantee.
Own Your Australian Web Domain Name
Melbourne IT offers you domain registrations in your name so you have complete control over your web domain until you choose to let it expire.
Some web hosting providers can help you register your preferred domain name as you are setting up your website. However, you might want to pay more attention to the fine print to confirm if your domain name belongs to you or to your web host.
While it does not affect your website's functionality, it might pose some issues should you find yourself in a position where you need to leave your current hosting provider before your contract is due.
With us, you need not worry about such issues. We will even send you a reminder before your domain name expires so you can choose to renew them and keep your domain name registration active.

Melbourne IT Offers One of the Best Web Hosting
From wholly owned infrastructure to end-to-end digital services, we are able to offer enterprise grade web hosting to anyone looking to host their Australian website on fast, secure and reliable environment at small business prices.
To learn how our web hosting will suit your needs best, feel free to take our 30-day trial for a better understanding of the Melbourne IT difference. If you are ready to partner with us for a new web hosting experience, contact us for a custom quote now!
Looking for some help with domains, hosting, web design or digital marketing?