Optimising your web forms: how much is too much?
Written on 15 August, 2018 by MelbourneIT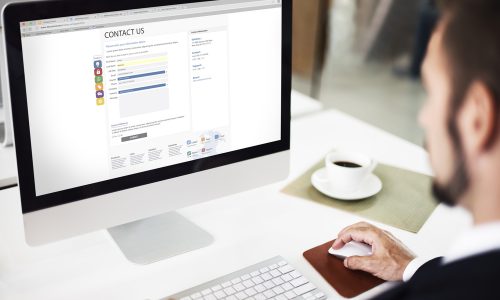 We are no longer limited to simply providing information to consumers online, websites have also become an important portal for capturing user data.
Chances are, if you have a website, you have an online form. Whether it's a simple subscription form on a blog or a payment form on an eCommerce website, forms enable you to keep data that helps us market and remarket to those who have previously interacted with your brand. The data also allows you to be far more personal in the marketing messages you send, providing a better customer experience and building stronger customer relationships.
But what is the best practice? How can you ensure you attract the most leads to fill out your online form? Let's have a look at what you can easily do to optimise your forms.
Reduce the number of fields the user has to fill
People who browse the internet are used to a simple click of a button to get what they want. It's all about simplicity. Every function (including your forms) should be easy. The more mandatory fields there are to fill, the less likely it is that someone will take the time to fill it in. The fewer fields there are, the easier it is, which means there are likely to be many more people willing to oblige by providing their information. It's not rocket science – if you want to increase the volume of your subscribers, decrease the amount of information they are required to provide.
Make your form appear shorter than it really is
Keep your forms compact. Visual length is not the same as the number of mandatory fields on your form. You may have 3 mandatory fields and 20 optional fields. This is a great example of a poorly optimised form. When selecting fields to include, only ask for information that you really need.
For example, unless you have a reason to use it, like a birthday special offer or gift, you don't need someone's date of birth. Likewise, these days there are limited scenarios in which you'd need someone's title (Mr., Miss., Mrs. or Ms). Think practically and ensure that there is a purpose for every piece of information you ask for.
Horizontal layouts
You can also trick the visitor's eye by using a horizontal layout. This means that some of the fields are lined up side by side, rather than stacked on top of each other. This makes the form seem like it will take less time to fill out, which, in the consumer's mind, is less of a commitment.
Multi-step forms
A multi-step form can be another useful tactic to attract more interest. This form asks for minimal obligatory data to begin but more fields are revealed once the consumer submits to complete the first step. It is important that if you opt to use this type of form, you put all the obligatory fields at the front. Allowing the user to exit the form after submitting the obligatory details will ensure you still retain their initial data, while providing the option to divulge extra information in steps two onward. Some users are attuned to which fields are obligatory and which aren't, but those who aren't paying attention are likely to continue to provide the information you ask for after completing the first step.
Use intelligent forms where you can
Intelligent forms automatically fill fields where data has been previously provided. This means your visitor won't need to enter the same details on your website over and over again. By using cookies, these forms populate your users' information automatically, making it quicker and easier for the customer. These forms are particularly useful for eCommerce sites where users may be repeat buyers.
Keep your button copy short
What you say on your site is your prerogative but, when it comes to calls to action, less is more. The 'submit' button on your online form should be both descriptive and succinct. Tell your visitors exactly what they'll get when they click in as few words as possible. Action words will help you be specific without rambling. The classics are classics for a reason so, if you're stuck, try using one of these:
Test your forms
Not only should you be testing the layout of your forms, you should also be paying close attention to your call to action (CTA). By split testing, you generate more information on your specific target audience, which you can use to optimise future forms.
When it comes to your online presence, ensuring your website is performing at its best should be your #1 priority. If your site is ready for a refresh, or you're looking to start again from scratch, Melbourne IT have Done For You Website Packages that take the trouble off your hands. Get in touch with an Online Solutions Advisor today and see the results of a professional.
Looking for some help with domains, hosting, web design or digital marketing?