What is a landing page and why do I need one?
Written on 20 August, 2018 by MelbourneIT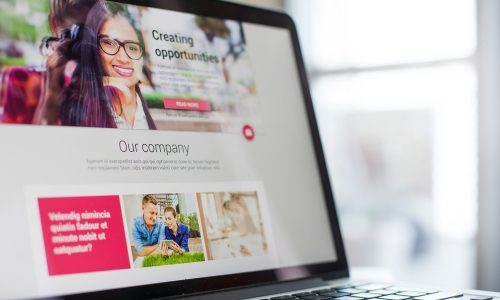 Simply put, a landing page is where a visitor lands after completing a certain action. They are used throughout various forms of digital advertising, like Social Media Advertising or Google Adwords, as a destination to direct online traffic.
A landing page generally has a single goal. This goal depends on the action you want your prospective customer to take. Do you want them to buy a product? Do you want them to register their interest? Do you want them to subscribe to your newsletter? The options are endless but, with one focus for the landing page, you direct the viewers' attention to something specific. This increases your chances of getting your prospective customer to complete the action you want them to take.
What's the difference between a home page and a landing page?
A landing page is not your home page. Your home page should summarise what people can expect from your business. It should be far more general and consist of multiple links to help visitors navigate to the page most relevant to them. A landing page, on the other hand, provides a platform for a single product, service or idea (like a deal or promotion). It has a sole goal, and limited links, which is proven to increase conversions.
Why do you need a landing page?
A landing page has many different functions and can be used in a variety of different ways. No matter how you use it, you will enjoy these four primary benefits.
Specific and targeted
Landing pages provide you with a platform on which to granularly target your consumers. You can test your landing pages and optimise them down to the size of the call to action button, the primary colours and the banner text.
Glean data and insights
With a specified landing page, you can collect data on your target audience, which will help you to optimise your advertising moving forward. You're not just in for an increase in behavioural data – with a form on your landing page, you'll also find yourself building a list of leads that you can contact with marketing messages down the track. A highly-qualified, engaged email list can be one of the most valuable assets, particularly to small businesses. Landing pages help you build this list for your business by collecting customer data.
Increase conversions
Having an independent page dedicated to one goal not only allows you to learn more about the specific target market for each product, service or idea, it's also proven to increase the number of visitors that take the specified action. The less clutter on the page, the clearer the advertising message and the higher the chance of converting.
Improve paid digital advertising results
Landing pages are synonymous with paid search and paid social media campaigns. If you're directing traffic to a dedicated landing page – provided that the landing page is purpose-built for your ad – you're increasing your chances of conversion, which, is the ultimate goal of your paid digital advertising.
If you're engaging in DIY Search Engine Marketing or Social Media Advertising without dedicated landing pages, it may pay to speak to a specialist. There are a number of different hosting options available for effective landing pages and the team at Melbourne IT have the knowledge and expertise to give you the right advice. Chat to an Online Solutions Advisor today.
Looking for some help with domains, hosting, web design or digital marketing?