The four pillars of digital marketing you need to know
Written on 27 September, 2017 by MelbourneIT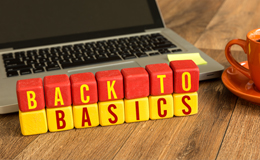 The phrase 'digital marketing' can be defined in many ways, but the reality is that very few people actually understand just what's involved. Is it about making your website Google-friendly? Spruiking your business on a bunch of different platforms? Raking in thousands of social media likes?
It's a mix of things, including all of the above, which is what can make it such a muddy concept. It's important for businesses of all niches and all sizes to have a basic understanding of how to market themselves in the digital age or  risk losing customers to more tech-savvy competitors.
That's why we're going back to basics. We're clearly outlining what the term 'digital marketing' entails so that by the end of reading this, you should have a core understanding of how your business fits into the digital marketing realm and which areas it can really benefit from.
The four pillars of digital marketing
Though certainly a complex subject, digital marketing can be broken down into four key pillars:
Search Engine Optimisation ('SEO')
Pay-Per-Click advertising ('PPC')
Content marketing
Social media
Let's take a closer look at the properties of each of these pillars.
SEO: Giving your website the right tools to organically rank in search engine results
SEO – or search engine optimisation – is kind of like the bread and butter for digital marketing, making it a prime technique for businesses to capitalise on. It's the art of working with a search engine's algorithm to get your website ranking as high as possible for organic search results. When done right, it can be a very cost effective channel that delivers great results.
A thoroughly-considered SEO strategy is your key to improving your website's online visibility. Given that the vast majority of consumers use search engines such as Google to find product and service offerings these days, it's important to implement ways to make sure your potential customers can find you.
Still scratching your head? Let's colour it with an example. Say you run a family law firm in Melbourne. You'll want your website to appear on the first page of Google for keywords like "family law firm Melbourne" in order for clients to find you. This is where SEO comes in, making sure your website is tweaked in just the right way to ensure you appear high on a search engine results page.
As you may or may not be aware, Google is an incredibly complex tool, and the algorithm it uses to determine where to rank websites is a complete secret. As such, optimising your website in the best way possible takes a good dose of technical expertise – especially considering that said algorithm is constantly evolving.
PPC: Paying a designated fee to search engines to get your website ranking
On the flipside, we have pay-per-click advertising. While SEO is the process of making your website rank organically, PPC is where you pay a search engine to get your website appearing at the top of search engine results.
How does this work, exactly? Every time someone clicks on your ad, you pay a small fee. When you compare this to SEO, it might seem like the lesser option, but PPC advertising certainly has its benefits: your website will gain almost instantaneous visibility, and every dollar spent translates to an actual visitor to your site.
Often, businesses will choose to combine an SEO campaign with a PPC one to get the best of both worlds. Here, a PPC ad on Google (otherwise known as an AdWords campaign) can boost your website to page one while you wait around for your SEO efforts to take effect. Once all those little search engine optimisation tricks start paying off and Google acknowledges your website as a high-quality resource for its users, you can then rely on organic traffic over paid traffic.
Content marketing: Educating, entertaining and inspiring consumers through additional content
The volume of businesses out there means that it takes more than just a website to attract new customers. Consumers have plenty of resources at their fingertips to decide which business to invest their time and money into, which is why it's a good idea to create complementary materials about your services.
Content marketing does just that: it's a way to position your brand as a top influencer of its industry. The focus is less on advertising, more on delivering engaging pieces of content that provide value to customers. Content marketing comes in a variety of formats, including but not limited to:
Blogs
Marketing emails
White papers
E-books
Press releases
Videos
By distributing this kind of content about your business, you can show the world what you're all about while expanding and concreting your online presence, which is of course great for SEO.
While content marketing can certainly be a substantial business investment, it takes a lot of know-how to get right. Businesses must combine creative thinking and production skills with a comprehension of analytics. If not, the whole campaign could flop, ending up costing the business money in the long-run.
Social media: Acquiring and nurturing consumers while building a brand image
Chances are you already have a pretty good understanding of how social media works – platforms such as Facebook, Instagram, LinkedIn and Twitter are some of the most popular and powerful media channels in the world. However, how it works for you on a personal level differs greatly to how it can work for your business.
Social media advertising largely revolves around building and maintaining strong relationships with your customers and future prospects. From a basic viewpoint, consider it this way: you create an engaging post, it attracts likes or comments, and this generates users to take positive action (e.g. following you on social media, clicking on your website or making a purchase­). More than this, social media is an ideal way to collect valuable feedback from customers, particularly since users are much more willing to voice their views on these platforms rather than old clunky methods such as traditional customer service surveys.
These days, a whole bunch of brands are garnering new customers thanks to a cleverly-curated social media presence. However, it takes more than just a pretty profile to make your business's social media efforts successful: targeted advertising, analytics tracking, and a whole bunch of other elements can all work together to help power-boost your brand.
It can certainly pay off to allocate some of your marketing budget towards these advertising streams. Paid advertising on social media is comparable to PPC advertising, with businesses paying the platform a fee to expand their exposure. However, it has its unique differences – instead of charging you each time a user clicks on your ad, social channels such as Facebook typically charge you based on how many people are shown your ad.
While this can be a great way to amplify your potential reach and execute your brand voice, it can admittedly be costly, which is why you want to make sure you know what you're doing if you head down this pathway of digital marketing.
Which digital marketing technique is best for you?
There's no blanket approach to digital marketing. Working out the best strategy to profit your business comes down to a number of factors, including industry, budget, business culture and more. A local plumber, for instance, can potentially hook tons of new leads from a strategic SEO campaign, while an e-commerce store can benefit from pay-per-click ads and content marketing in the form of emails.
Regardless of where you fit, making sure that your business has entered the digital age is irrefutably important. If you'd like to know which marketing technique is best for your business, get in touch with our online solutions advisors.
Looking for some help with domains, hosting, web design or digital marketing?