Google vs Facebook: Which is best for your business?
Written on 25 September, 2017 by MelbourneIT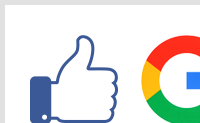 Paid traffic is one of the fastest ways to attract new website visitors, gain more leads and generate sales. If you're looking to scale your business, Facebook advertising and Google Adwords are often the main contenders in paid advertising. Whether one performs better than the other in delivering ROI continues to be a question many business owners ask. In this infographic, we highlight the core differences between Facebook advertising and Google Adwords. As you'll see in the infographic below, each platform serves different purposes.
While both channels have untapped potential to reach your ideal clients, each have their own strengths. Facebook advertising is great for bringing awareness to customers who may be considering your product or service, while Google Adwords is known for its ability to reach customers with a strong intention to buy. Understand how each can work for your business and start investing with a minimal budget to start. There is room for both channels in a marketing strategy.
Most businesses we work with see success with a well structured campaign set up and strategy (i.e. keywords to bid on, budgets to set, optimisation tactics…etc). If you aren't seeing success from your campaigns, we would love to help.

Interested in Facebook advertising?
Our social media advertising packages include Facebook page creation, ad campaign set up, A/B testing and real time optimisation. We can tailor a social media package to your budget and goals.

Interested in Google Adwords?
We can run your ad campaign(s) from start to finish so you can focus on running your business. Our packages include keyword analysis, campaign creation, monthly optimisation, ongoing consultation and unlimited support.


If you want to get started with Facebook or Google advertising right away, speak to one of our digital solutions consultants at 1300 638 734.
Looking for some help with domains, hosting, web design or digital marketing?