Keep your business connected during social isolation with Microsoft Teams
Written on 17 June, 2020 by MelbourneIT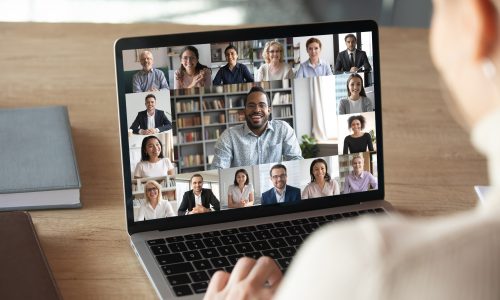 Digital collaboration tools have become critical in the age of remote work, globalisation and experience. Not only can they improve communications and ensure efficient performance but over the past few months they've developed into a professional necessity.
Video conferencing and online messaging services in particular offer organisations some semblance of physical contact during the COVID-19 pandemic – to keep in touch with their teams and interact during social events.
With so many digital collaboration tools at your disposal, which one should you choose? Below we take a look at Microsoft's integrated video conferencing and chat solution: Microsoft Teams. We'll review three key benefits so you can ensure you're choosing the best option for your business.
1. Security­
Businesses large and small are depending on digital collaboration tools so there is a need to ensure all data is protected. Microsoft Teams allows individuals to manage participants in meetings and control who has access to this data. For example, when recording a meeting all participants are notified when the recording starts. Recordings are then stored in a controlled repository that is protected by permissions and encryption. Microsoft processes more than 8 trillion security signals every day and uses these to proactively protect users against security threats.
Given the recent security threats to other mainstream video platforms, it's critical to ensure businesses are picking a platform where privacy is a priority. In Teams, data is encrypted in transit and at rest, storing your data in a secure network of datacentres and backed by Secure Real-time Transport Protocol (SRTP) for video, audio, and desktop sharing.
2. Experience
When choosing the right collaborative environment, a great user experience is a must. The tool you choose will be the source of either employee discomfort or seamless operation. Microsoft Teams has many features designed to provide a great user experience, such as:
the ability to blur your background to ensure privacy in your location
the ability to share screens through granted permission
the ability for other participants to take control of your window with an additional layer of permission to collaborate on a single document simultaneously
Teams' messaging capabilities are also well-equipped for professional and social interaction, including the option for Emojis, Gifs and even the ability to send virtual praise to people.
The platform consistently provides smooth meeting response times and quality-of-life features such as a green bar surrounding the active speaker – so you can identify and mute any pesky background noise.
3. Integration
Software integration has rapidly become critical to business operations; no longer should businesses have to move files around or use different clunky services to ensure continuity.
Microsoft Teams is an intuitive leader in this field. Developed as part of the wider Microsoft Suite package, Teams includes seamless integration across a range of Microsoft applications. These include features such as the option to edit Word documents and PowerPoints within Teams itself and automatic synchronisation with your Outlook calendar to update your live status without lifting a finger.
Microsoft Teams also supports the addition of a number of apps such as the weather, news, embedded YouTube videos, Wikipedia search and live updates from Stocks across a range of products in its app store. In addition to partnerships with the Adobe Creative Cloud and Developer tools, users can also integrate with Zoom to ensure compatibility with all external organisations and even includes the option to upload a custom app required for any niche activity.
Verdict?
If you're seeking a well-rounded and dependable video conferencing tool, Microsoft Teams demonstrates a wider range of applications, privacy and integration for all of your digital collaboration needs. Purchase Microsoft Teams as part of the Office 365 suite from just $9.98 per month here.
Step into the digital world with Melbourne IT
Australia is easing it's way out of COVID-19 step by step, and your business can too. Whether these are your first steps into the digital world or you've already made leaps and bounds; our experts are here to help you navigate the best way forward. We have all the tools you need for a successful online business, including; Website Design, Productivity Apps, SEO, PPC and Social Media Advertising. To speak with our specialists, call 1300 793 248 or submit your details online.
Looking for some help with domains, hosting, web design or digital marketing?