80% of all Melbourne IT Customer Care calls are now answered in Australia!
Written on 15 April, 2021 by MelbourneIT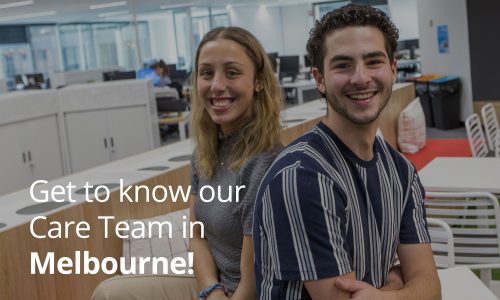 Welcome to our April business transformation update. We are delighted to announce convenience and security updates to the Console as well as some great updates to our Customer Care team.
A key part of our transformation program is moving customer support onshore. At the end of March, we reached a key milestone with over 80% of calls now being answered and resolved by our local, Australian customer service team. With our new support team in Melbourne complementing our existing Sydney-based team, we're pushing towards a goal of 100% of calls managed locally by July.
And we aren't stopping there…
We're planning extended support hours. Whilst administrative queries (like password resets) will retain current hours of operation, we know that we can't predict when something might go wrong. So from May 2021, we're aiming to reintroduce 24/7 support for any technical and fault related queries to ensure we can get things back up and running for you as quickly as possible.
Get to know our care team in Melbourne!
It's always nice to put a face to a name, especially when you need help.  Have peace of mind knowing that our Care team have got you covered – from setting up your new domain, logging into the Console, and exploring other digital solutions to help grow your business online and beyond. Our team has a diverse background and a wealth of experience which enables them to foresee and fix problems fast, so you can get back to what's important to you, growing your business.
Meet Aiden, our Customer Care Team Leader
Aiden's role in Customer Care is to direct and oversee the care representative team. He is always on hand to offer his team support in resolving complex customer questions, and he continually provides performance feedback for driving the best possible customer service outcome. Aiden is very much a people person and enjoys building strong relationships with not only his team, but also the wider organisation. Aiden says his favourite Webcentral product is the 'Domain Name', because "it allows everyday people to create something personal and bring it to life within the internet".
Meet Olivia, one of our newest Customer Care Representatives 
Olivia has been in the team for two months and has become a go-to for all things 'website bug' related. She particularly enjoyed her welcome to the company, she likes how "we treat each other like family, everyone in the business is very welcoming and kind'. Olivia is a full-time university student and spends time outside of work drawing and painting – her natural creative flair has helped her hit the ground running at Webcentral and our customers are grateful to have her in the Care team.
Meet Prashant, also new to the Customer Care team
Supporting small business owners is what Prashant does best. "Fixing problems for small business owners gives me total job satisfaction, it means a lot to them and their business". He spends most of his time resolving email account issues when a customer cannot send or receive important emails. "My time in the team has been great, my customer handling experiences and efforts are being appreciated and the customers I speak with are leaving calls happy".
Meet Anthony, your domain renewal Care Representative
Anthony is an expert in resolving all your domain renewal queries. From supporting you with autorenewal, domain expiry dates and payments, he will always make sure you have a smooth renewal experience.  Anthony has been instrumental in supporting new Care Representatives joining the team. He is proud to "help new starters with their questions and support them in building a foundation of  Webcentral product knowledge".
Meet Maddie, she joined the team one month ago
Maddie recently completed her Care Representative training and is already taking Customer Care calls and resolving cases. Her very first case was supporting a customer who was experiencing zone record account challenges. "This particular customer did not fully understand this side of web hosting. I guided them through why there was a challenge and provided steps to take for resolution". Maddie enjoys working in the Care team environment because "you're challenged everyday with new customer queries which keeps your day to-day varied, and you feel a huge sense of achievement when resolving an issue."
In addition to growing our Customer Care team, we're delighted to announce convenience and security updates made to the Console.
Console login has been made easier
We've made it easier to login to the Console with the release of the new simpler sign-in functionality. You can now use your account Email Address or Domain Name to login to the Console – or keep using your Account Number if that works for you.  You can also reset your password using these details.
Multi-Factor Authentication (MFA) is now available
At Melbourne IT, we take the protection of your data very seriously, and understand that the confidentiality, integrity, and availability of your data is vital to your business. With this in mind, we are pleased to announce Multi-Factor Authentication (MFA) is now available for Console account access. MFA is one of the most effective tools for enhancing login security, and safeguarding your business and data against security threats. Once enabled, it will require proof of identity by supplying two or more pieces of evidence (or 'factors') when logging into the Console. One factor is something you know, such as your username and password. Other factors are verification methods which you have in your possession, such as an authenticator app or security key. There are a few simple steps required to fully setup MFA, full instructions can be found in our support article.
Keep an eye out for our next update as we progress with our business transformation programs. If you have any questions, feel free to give one of the team a call on 1 300 638 734 or submit a support message online. 
We'll continue to deliver better customer experiences and improve our processes to support you and your business now and into the future. We are 100% committed to you and all Australian and New Zealand businesses.
 Joe Demase 
Managing Director
Webcentral Group
Looking for some help with domains, hosting, web design or digital marketing?