With a locally based and managed team we can ensure you get the best support in times of need
Written on 10 March, 2021 by MelbourneIT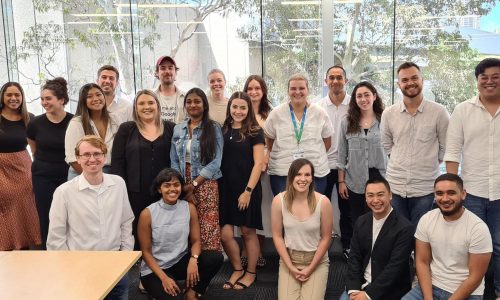 If you recall our update in February 2021, we let you know we started to bring our Care team home to Australia. 
We wanted to provide an update on how we are transforming the Customer Care team to support you as our business grows.
With a locally based and managed team we can ensure you get the best support in times of need.
Since moving the Care team home to Australia, we have already seen improvements in the level of customer support:
Customer queries have been answered 11% faster
We have resolved customer problems 15% quicker, which means customers are spending less time on the phone
As a result our customers are happier, with customer satisfaction increasing from 75% to 90%
Get to know our care team in Sydney!
It's always nice to put a face to a name, especially when you need help.  Have peace of mind knowing that our Care team have got you covered – from setting up your new domain, logging into the Console, and exploring other digital solutions to help grow your business online and beyond. Our team has a diverse background and a wealth of experience which enables them to foresee and fix problems fast, so you can get back to what's important to you, growing your business.
Meet Ly, our most experienced Customer Care Consultant.
Ly is a hero in Customer Care. He has the power to turn any problem into a solution, no matter how difficult it is. With a whopping 12 years at Webcentral Group and a passion for all things cPanel and Microsoft Office 365, he really is your go to for support. Ly likes to help customers with tech issues. "In a usual day, I'd help customers with their websites on cPanel which I love – I find it easy and rewarding to guide customers through the interface". His proudest moment at Webcentral Group was in March 2020 when the team were moved to work from home. "We proved to ourselves and our customers that we could work from home and still provide the best support customers with their digital journey".
Meet Kevin, our newest Sydney based representative.
Kevin has hit the ground running since joining the team six months ago. He supports customers with setting up their email account and walks through the process from technical troubleshooting perspective as well as educating throughout. "We like to ensure the customer leaves their customer service experience with both a resolution to their issue, and the knowledge to resolve issues themselves going forward". Kevin's feedback speaks for itself with customers saying, "Kevin went above and beyond to help me – he is the best IT support person I have ever spoken to!" He was a great help and showed determination to assist and fix the problem, excellent customer service".
Meet Sophie, also part of the Sydney care dream team.
Sophie loves the people and workplace culture at Webcentral Group. She enjoys being part of the customer care team because they are "the coolest people ever!" Having been with the business for 18 months, she has become a go to for admin policies relating to auDA, ICANN and WIPO. "Anytime the admin queue reaches zero calls is when I know I'm doing a good job". Domain names are her favourite product in the Webcentral Group portfolio, "they are after all the building block of the internet".
Meet Harshitha, proud to be the voice of the customer.
Harshita has been in the team for almost three years and supports customers with Windows and cPanel migrations. She knows how to make any migration process totally stress-free and always ensures a timely delivery. Harshita represented our customers as 'the voice of the customer' in a recent server migration. She collaborated with the migration team to pre-empt customer impacting issues in advance of the go live which led to our most successful migration to date.
What's next?
✓ Growing our Melbourne based Care team – We're growing the Care team in Melbourne to enhance local support, and we'll continue to introduce the team each month in our monthly business transformation email updates.
✓ Making the Console simpler and safer – We're making it easier and more secure for you to manage your services with us with added security features developed on The Console.
✓ Improving our domain renewal process – We've listened to our customers who have said they would prefer their domain to renew closer to expiry date rather than the 30 days before. With that in mind, we are refining the domain renewal process to automatically renew 7 days prior to expiry.
Keep an eye out for our next update as we progress with our business transformation programs. If you have any questions, feel free to give one of the team a call on 1 300 638 734 or submit a support message online. 
We'll continue to deliver better customer experiences and improve our processes to support you and your business now and into the future. We are 100% committed to you and all Australian and New Zealand businesses.
 Joe Demase 
Managing Director
Webcentral Group
Looking for some help with domains, hosting, web design or digital marketing?