How SEO can help your business succeed during COVID-19
Written on 15 July, 2020 by MelbourneIT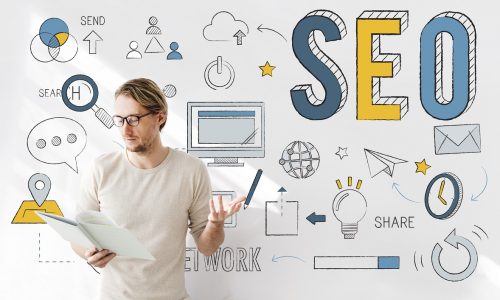 Across the world COVID-19 has drastically changed our personal and professional lives, leaving economies stalled and people living and working at home. Some Australians are enjoying new relaxed physical distancing rules with the four-square-metre rule allowing venues to reopen.
Even so, consumers are searching online a lot, with Google receiving nearly 2.3 trillion searches this year alone. Search engine optimisation (SEO) has always been a key strategy in being present online, as it gives your business the opportunity to appear as a top result out of those 2+ trillion searches. During the pandemic, we have seen a growing reliance on search engines for answering people's pandemic concerns, online shopping and access to essential information.
As Australia adjusts to life with COVID-19, all businesses should consider how SEO can help ensure clear communication with consumers during these extended periods of uncertainty. As search engines organise the world's information, SEO helps increase qualified traffic to your website on the information customers need – such as 'when will we reopen?'. This will also help identify highly qualified leads for your business.
An effective SEO strategy requires the right techniques to organise your website's content and enable organic visitors to your site. With this in mind, we recommended giving your SEO strategy a quick check, ensuring it is up to date for the next potential wave of incoming traffic.
Understand your list of topics and keywords
Within your team, understand the list of topics you would like to discuss and what your customers are looking for over the next three to six months associated with your product or service. From here, agree on the specific keywords associated with these topics that could direct a variety of consumers to your website from related search terms. The more specific you are with your topics and keywords, the more chances you have to attract a consumer and turn them into a customer.
Complete an SEO content analysis on your website
It may seem like a tough task to try and analyse the quality and effectiveness of the content on your website however, it is important to address some key areas that could be improved. Checks include:
the number of phrases ranking on each page
checking your meta title and description
identifying any indexed pages for search engines to read
design modernity
testing mobile performance
tone of voice
It is important that your content is engaging for your audience and easy for the search engines to 'crawl' so they can index you.
Maintain a blogging habit
Develop and stockpile high quality blog posts to be hosted on your website, offering the consumer a range of free information and insights. If possible, set out to publish a post at least once a week, as consistency will be key to ensure your keywords are ranked, and appear within the search engine.
Keep in mind what is happening in the market, and ensure your content is written for the audience you would like to attract. This also means keeping your keywords to less than three or four within the piece to ensure Google doesn't penalise your website ranking. Don't forget to consider link-building for your pieces across your social channels, public relation campaigns, and partnership websites.
Update Google My Business
The time has come to either create or update your Google My Business listing ensuring the content suits your SEO strategy. It's important that this information is correct so consumers can find your business location through Google Maps, understand your old or new opening times, read reviews on your product and services, or scroll through an array of quality images and information to learn more about your business. Once you have completed the initial changes, ensure you continue to check for new updates released by Google so your content is timely for consumer searches.
Step into the digital world with Melbourne IT
It may feel like three steps forward, two steps back but the important thing is we're in this together. Australia is easing it's way out of COVID-19 step by step, and your business can too. Whether these are your first steps into the digital world or you've already made leaps and bounds; our experts are here to help you navigate the best way forward. We have all the tools you need for a successful online business, including; Website Design, Productivity Apps, SEO, PPC and Social Media Advertising. To speak with our specialists, call 1300 793 248 or submit your details online.
Looking for some help with domains, hosting, web design or digital marketing?