4 tips to secure your business while working from home
Written on 26 November, 2020 by MelbourneIT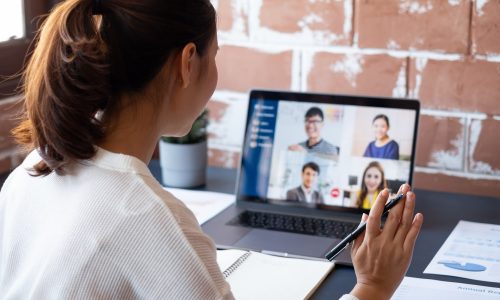 More and more Australians are now working from home creating a "digital office" environment, and it's a trend that we think is here to stay. With this in mind, it's important to consider whether home internet networks are putting your business at risk. Most home networks lack sophisticated security features, like spam filters and firewalls, which keep businesses protected online from cyber threats.  We can minimise the risks of cyber threats by providing employees with secure online tools like Microsoft 365. Here's 4 simple tips to ensure your business is protected online.
1. Install a corporate-like firewall with a Virtual Private Network (VPN)
Employees working from home are exposed to cyber threats through their home routers which often have outdated firmware. As a precautionary measure, a Virtual Private Network (VPN) can secure their browsing. A VPN allows them to connect to your corporate network remotely, offering all the same protections as though they are in the office. There are many reputable VPN providers available and once setup, all you need to do is train your employees on how to use them.
2. Prioritise password protection in video meetings
Now more than ever, businesses are reliant on video conferencing and online collaboration tools to boost morale, maintain productivity, and retain some semblance of the office environment. Whether it's for important meetings amongst your team or external meetings with clients, your video conferencing platform must be secure. Microsoft Teams is a great example of a secure platform, processing more than 8 million security signals every day and backed by Secure Realtime Transport Protocol (SRTP) for video and audio. You have direct control over the number of authorised users in your team and can invite clients to your meetings using limited-access guest accounts.
Learn why your business needs Microsoft Teams and all the great collaboration features it offers.
3. Setup secure file sharing and storage
In the "digital office", your employees will still need to share confidential files. Rather than asking employees to upgrade the security of their own home network, provide them with secure collaboration tools that keep your most important files safe. With Microsoft 365, you'll have access to secure email platforms, cloud file storage and document sharing.  Each of these apps is password protected and features Microsoft's own enterprise encryption service, storage in their secure data centres and a guarantee of 99.9% uptime. It will allow your employees to work seamlessly on any device and in any location, plus you'll have the peace of mind that important business data will remain safe.
4. Build awareness by educating employees
Many of us believe cyber security principles such as 'don't click links from unknown sources' are common sense.  The reality is that in a high-paced environment, mistakes can happen. It's important to remind employees of their role in cyber security and that they should only be accessing the secure platforms you've selected on their work devices.
Step into the digital world with Melbourne IT
Securing your business should be a top priority, but it shouldn't add unnecessary stress to your day. With Microsoft 365 set up you'll have full access to a suite of secure apps and online collaboration tools. This includes video conferencing and chat, file sharing, cloud storage and professional emails. To speak with our specialists or if you would like advice on the which Microsoft 365 plan is right for your business, call us on 1300 663 754 or send a message and we'll call you back quickly.
For more information on cyber security best practices for small businesses, we recommend the Small Business Cyber Security Guide from the Australian Cyber Security Centre. It's a simple and actionable guide for Australian small businesses to proactively increase their resilience against cyber security incidents. It also features a useful checklist to work through and a glossary for reference.
Looking for some help with domains, hosting, web design or digital marketing?