How to gain business insights from your customer data
Written on 12 August, 2020 by MelbourneIT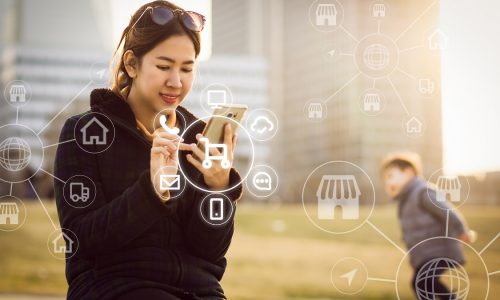 There are numerous technologies businesses of any size can use to collect and analyse data to bring about better outcomes and experiences for their customers. Not only can these technologies help to automate the parts of your business that keep you up at night, they can also help plug your own skills gap as not every business owner is a skilled data analyst, and nor should they need to be.
The more a business uses technology for key processes, the more data it will collect. By analysing this data, you can reveal key patterns and trends that can be acted on to increase customer retention, drive sales, and increase profit.
Before we dive in, data protection should be your first thought. No matter what your business specialises in or for how long you have existed, you must deal with the reality of managing and protecting customer information. It's no secret data breaches are becoming more frequent, so it's important to understand the risks, mitigate each of them, and communicate to your customers how you are doing those two things. There is no faster way to lose a customer than through the belief their private information is not safe if they shop with you.
An easy solution to stop hackers stealing sensitive customer information is by encrypting the data that goes to and from your website with an SSL certificate. Not only does this boost your security, Google actually penalises websites in search results that don't have one, so it's a quick and easy solution to a potentially crippling problem.
In terms of data insights, the opportunities are endless depending on the strategic imperative and what outcomes your business requires. Here's some data analysis tips to keep in mind.
Understanding your customers
Thanks to data, your business can get a full picture of your customers; what they buy, why they buy it, how they prefer to shop, why they chose different brands, and what they will buy next. By understanding the above, you can better interact and engage with your customers, while also remaining a step ahead of them and their purchasing behaviours.
There are three main types of data your business can collect all with varying degrees of usability:
Personal data is collected as your customers interact with your business including personally identifiable information, demographics, location and purchasing preferences. These should be accessible through your customer management system (CMS), and will require basic analysis to generate valuable insights.
Engagement and behavioural data is collected as your customers interact with your digital touch points including your website, newsletters and paid ads. It allows you to analyse how they move through your site and the time spent doing so, where you most frequently lose engagement, if they open and click through your emails or interact with your paid ads. The above can be achieved through Google Analytics for free, however there are paid platforms available for a more in-depth analysis.
Attitudinal data is an additional layer of insight gained from engaging your customers and asking for information including product and service feedback through specific brand surveys or your Net Promoter Score (NPS). This score is an index (-100 to 100) that measures the willingness of customers to recommend you product or service to others. To gain the above, you will need to proactively engage your customer base through direct contact or through a customer experience program.
Identify trends to capitalise on them
There is so much a business owner can do with the data they collect, without needing to have the skills and knowledge of a trained data scientist. One option is spotting and monitoring behavioural changes and patterns. By analysing how demand for your products or services changes over time, you have a better chance of understanding what prompted those changes and being able to predict them in the future.
Layering this customer behaviour data with external trends data from platforms like Google Trends and coupled with things like time of year, economic conditions, and even something as simple as the weather, your business can pull together a detailed picture of what your customers are likely to be buying.
Improve operations
Data can also optimise business processes and everyday operations. With any business process that generates data, like production lines, delivery systems, or customer ordering, you can use that to generate efficiencies.
Retail companies for example are able to optimise stock levels based on the predictive modelling discussed in the last point, helping you to keep the most relevant stock on the shelves at the right time of year – boosting your sales and increasing your customers loyalty.
Not only should data be your friend, it should also be the basis of any major, or minor, business decision you make in 2020. If you use it well, and keep it safe, your customers will keep returning!
Take your business to the next level with Melbourne IT
Customer data and insights is only one of many ways you can take your online business to the next level. We have all the tools you need for a success, including; Website Design, Productivity Apps, SEO, PPC and Social Media Advertising. To speak with our specialists, call 1300 793 248 or submit your details online.
Looking for some help with domains, hosting, web design or digital marketing?