How to rebrand your business in just 7 steps
Written on 07 August, 2020 by MelbourneIT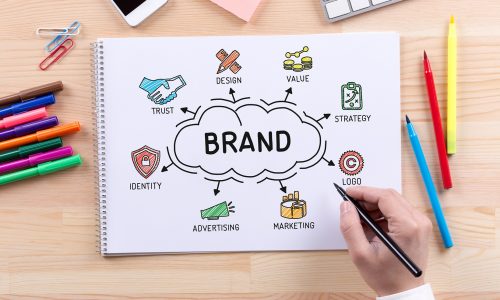 There are many reasons businesses across Australia might consider rebranding, with most stemming from a need to reposition a brand in the marketplace. It could be as simple as the product or service you now offer has outgrown your original intention for your brand, or a major shift in customers and demographics.
Having a strong brand identity is what is most important in this discussion as customers are more likely to remember your business and trust your communications. Successful brands are those who creatively and clearly communicate who they are, their offering and what they stand for, making those who have interacted with you proud to be your customers.
Whatever the reason may be, here are seven steps which will help get you on your way.
1. Start with your why
Any re-branding strategy should start with thoroughly analysing the reason behind the need to rebrand. Do you need to accelerate growth? Is it to help you compete in your sector? Are you trying to appeal to a different audience? The answers to the above will help to define your first steps toward understanding what your business' refreshed brand identity will be.
2. Know your identity
It's incredibly important that you analyse what your new brand stands for, in light of understanding your why. Brands that don't have a strong set of values and core beliefs can risk coming across as disingenuous, especially now that consumers are looking to purchase from brands whose values align with their own.
3. Research your competition
There are few things worse than launching the brand you've worked hard on, only to realise you are a little too similar to your competitors. The main objective of competitor research is to understand the difference between your core competencies and theirs. Analysing and incorporating this will be what sets you apart, including your unique selling point, and gives your brand the tools to flourish.
4. Build your messaging
Once you have collated the above and completed your research you can move onto building your brands messaging. In its simplest form, messaging should include your brands purpose and core values, from this you can build out your messaging house to include a vast array of different segments, depending on your customers and campaigns.
5. Get creative
By now you should know; who you are, what you stand for and who you are competing with. Now what? It's time to get creative! Think name, logo, tagline, colours, stationery, and the like. These elements are often described as a brand's style guide and pulling it all together will ensure your brand is implemented consistently across different mediums.
6. Boost your collateral
At this point you need to start thinking about your physical presence. Now that your branding and identity is sorted you can put it into play. If you intend to host market stalls, booths at any relevant expos, or hand out samples at events you will need to develop your marketing collateral. This should include anything you intend to physically or digitally give prospective customers that pitches your product or service.
7. Nail your online presence
It's no exaggeration to say your website and online presence are the heart of your business. It's the place where you can tell a compelling story to your audience, and the first place prospective customers will turn to learn more about your brand and products One of the key elements to a successful brand is consistency. Your customers should be able to find you on any digital channel and receive the same type of experience. It's also important that your brand reaches your target audience in the places they want to be found – making a multi-channel brand essential in the digital age.
Step into the digital world with Melbourne IT
It may feel like three steps forward, two steps back but the important thing is we're in this together. Australia is easing it's way out of COVID-19 step by step, and your business can too. Whether these are your first steps into the digital world or you've already made leaps and bounds; our experts are here to help you navigate the best way forward. We have all the tools you need for a successful online business, including; Website Design, Productivity Apps, SEO, PPC and Social Media Advertising. To speak with our specialists, call 1300 793 248 or submit your details online.
Looking for some help with domains, hosting, web design or digital marketing?